Wedding Design & Dressing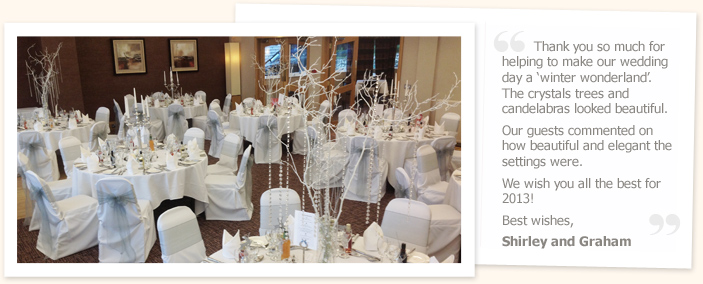 We now offer a full wedding design service to help you theme your big day and ensure every aspect of your wedding decoration looks stunning. We can offer advice on styling, themes and colour schemes to suit your venue.
If you choose our full design service we will arrange an initial meeting (either in person or via phone/email) to discuss early ideas and create a mood board for you.
We are here to help if the thought of setting up the decorations on the day is just too daunting, it takes a surprising amount of time! Just fill in the 'additional comments' section on the quote form with details of what you would like us to do for you.
Table Centrepiece Design
Looking for something unique? We can design bespoke table centrepieces for you.
Venue Dressing
If you've got decorations but have no time, we can set everything up for you on the day.